Design Sprints have demonstrated to be a successful solution for many teams that were looking for an agile and effective way to solve their challenges, create innovative products and minimize the risks of the decision-taking phase.
They also demonstrated to be real drivers of change inside those organizations that were often resistant to try new methods and to evolve into a more user centric and agile mindset.
What Google Design Sprints are and where they come from.
Design Sprint is a 5 days process conceived to solve business or design issues of a product, through a combination of design, prototyping and validation with users.
The methodology has been developed inside GV, Google's venture capital fund, and has been used used in countless Google's products and for helping Google Ventures startups portfolio to move forward with their business.
Jake Knapp, former Designer at GV is the man behind the Design Sprint methodology. Jake worked at Google for 10 years and contributed to many big G products like Hangout or Gmail.
Jake also wrote "Sprint": what we can consider the "official" Design Sprint guide.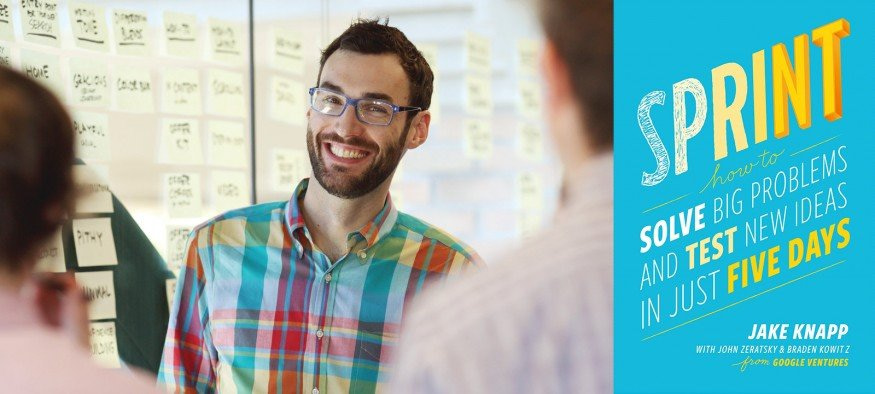 Uber, Slack, Nest or the delivery robot makers Savioke, are only few of the many GV companies that have been using Design Sprints to improve their products and create innovative solutions to real-life challenges.
The Design Sprint process starts with the definition the problem we want to solve and ends, 5 days later, with the validation of the solution with real users.
Such incredibly fast pace is achieved thanks to a set of different techniques that help team members move through the different phases of the process by keeping them focused on their challenge when they take critical decisions.
Design Sprint takes its tools from Design Thinking, an approach to problem solving that combines users' needs with business goals and technology limitations.
The goal of Design Thinking is to create solutions that bring value to users and, at the same time, are an opportunity for our business.
Design Sprint is a collective effort made of alternating divergence and convergence phases. That means exploring ideas and solutions individually and then sharing them with the rest of the team in order to find and agreement and move forward.
The 6 steps of a Design Sprint:

1. Understand the problem.
During the first day of a Design Sprint the participants gather together and start creating a common knowledge base regarding some key aspects of their challenge like their users' needs and difficulties, tech limitation, their business goals or their competitors.
The following exercises are done on day one to help the team analyze the most relevant aspects of their products and detect business and design opportunities:
Lighting talks
How might we
Experience map
2. Define the Design Sprint challenge.
Which part of the experience should we improve with our Design Sprint? For which user are we designing this week?
The answers are found by identifying the key moments of the user experience with the product and focusing on the opportunities for improvement that would create the most benefit for them and the business.
3. Diverge, in order to generate possible solutions to the challenge
Brainstorming is the key exercise at this step of the process. The team alternates individual ideas generation and group decision-making through different cycles, moving from undefined concepts to precise proposals for our solution.
4. Decide together which is the best solution to the challenge.
5. Prototype our idea and create a mockup users can interact with during the last day or our Design Sprint.
6.Validate the solution with real users and get answers to the key questions: Is our idea a valid solution to our user's needs? Does it bring value to them? Should we move forward with it or do we need to amend it or even explore different paths?
Why companies should run a Design Sprint
Design Sprints are designed to reduce risks in decision taking.
Sprints allow any team to create and test an idea in only 5 days. This gives them the superpower of knowing whether their idea is making sense to their users without actually building anything.
For those teams that are used to work following the lean startup principles, Design Sprints are a powerful shortcut from the idea to learning, reducing the uncertainty during the development of our MVP.
Design Sprints are also a mean to explore alternative features for our products. Design thinking techniques, combined with teamwork, often generate innovative solutions that can boost innovation within a company.
When a team just feels stuck, Design Sprint are a fast way of moving forward.
Teamwork is a key part of Design Sprints and the solution generated during the process is the result of a collective effort.
Since the ownership of the outcomes is shared through different members of the team, this will likely benefit the adoption of the solution throughout the entire organization.
Who should run a Design Sprint?
Design Sprint was born in Google Ventures and, unsurprisingly, most of the companies that successfully adopted it were startups.
Actually, Sprints are well suited for companies that are used to agile development processes and don't have a rigid internal structure.
On the contrary, traditional companies, whose departments are not used to exchange information or rarely join to work together are often reluctant to embrace this new way of working.
However, many big corporations have successfully adopted Design Sprints and they are now part of their processes.
Dedicated innovation departments are usually the place where the magic happens.
Many examples can be found of big corporations that uses Design Sprints to solve big problems: BMW ran one to design their new BMW Service App, while the British Museum made a habit of Design Sprints in their Product Development Group.
KLM too is using Google's 5 days process to innovate and we at TeaCup Lab are helping KLM innovation team to apply Design Sprints to their design challenges
Get your Design Sprint by a Google Certified Design Sprint Master